Is your dream a bucket list trip to Paris with the family? Maybe you've always wanted a bathroom with heated floors and towel warmers.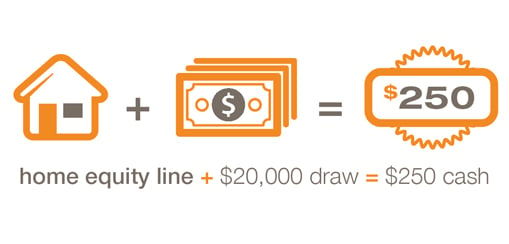 Whatever your dream, taking advantage of the equity in your home is a great way to make it come true.
Of course, a Home Equity Line of Credit isn't just for dreaming. It can also be used to pay an unexpected bill.
At Avadian, we're here to help. No matter why you're looking to open a Home Equity Line of Credit, we're offering more than just a great rate. (But we'll tell you about our great rates in just a minute.)
Right now, when you open a new Home Equity Line of Credit and draw at least $20,000, we'll give you $250. Yes, give you $250. Who couldn't use an extra $250?
We told you we'd come back to the rates. We're offering a 2.75% APR introductory fixed rate for the first year, a 3.25% APR introductory fixed rate for the first two years, or a 5.00% APR introductory fixed rate for the first three years1. And we'll cover your closing costs2. Pretty sweet deal, huh?
After the introductory fixed rate period, the APR will vary based on the prime rate (as published in The Wall Street Journal) plus a margin3 ranging from 0% to 2.50%. As of Sept. 25, 2019, the prime rate was 5.00%.
If that sounds like something for you, we'd be happy to help.
Want to learn more? Click here to request more information.
---
Subject to membership, creditworthiness, and approval. Home Equity Line of Credit rates are based on loan-to-value and credit worthiness.
1To qualify for one of Avadian's introductory offers, any Home Equity Line of Credit requests must be secured by a property that has not been currently or previously used as security by any of the current owners at Avadian. All rates and offers are subject to change without notice and cannot be combined with other special promotions.
2The closing costs will be waived with a minimum advance at closing of $10,000. Depending on the credit limit, closing costs and other fees are estimated to be between $300 and $500. If Home Equity Line of Credit falls below $9,000 in the first 365 days, you will have to reimburse the amount of the closing costs paid on your behalf by the credit union. You must carry insurance on property that secures this plan.

3The amount of the margin will vary based on several factors, including your credit history and loan-to-value ratio and can range from prime plus 0% to prime plus 2.50%. Maximum lifetime rate on Home Equity Line of Credit is 15.00% APR. Ask us for the current index value, margin, and annual percentage rate.
Equal Housing Opportunity Lender