---
Avadian Credit Union made a surprise visit at Brilliant High School in Brilliant, AL to surprise 17-year old Abbie Sherman with her magic moment.
Abbie was involved in basketball and karate, until she wasrecently diagnosed with Transverse Myelitis, which left her unable to walk completely in a short matter of time. Transverse Myelitis is a neurological disorder caused by inflammation across both sides of one level, or segment, of the spinal cord. This damage causes nervous system scars that interrupt communications between the nerves in the spinal cord and the rest of the body.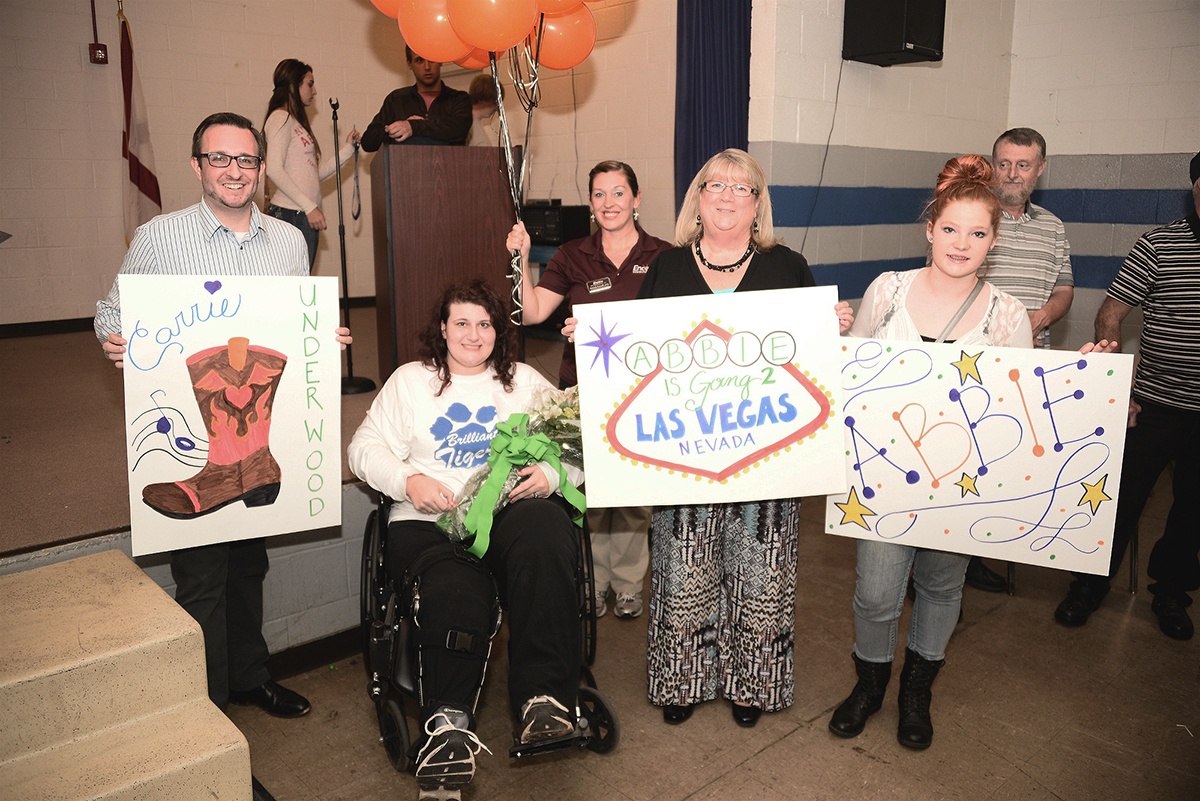 Avadian Credit Union partnered with Magic Moments to surprise Abbie at her school with a trip to Las Vegas to see her favorite music artist, Carrie Underwood, perform at a Party For a Cause Festival in April 2016.
"We were so excited and honored to present Abbie with this moment. From playing sports to suddenly being dependent on a wheelchair, we can't imagine what a shock it has been for her and her family. We hope this trip to see one of her idols is a welcome diversion and an experience she'll never forget," states Stanton Davis of Avadian.
Magic Moments is the only wish-granting organization dedicated exclusively to children in Alabama suffering with chronic life threatening diseases. Founded in 1984, Magic Moments has granted over 4,300 magic moments to children in all 67 counties of Alabama. Magic Moments establishes lasting relationships with the families they serve that don't end once the magic moment has been fulfilled. Magic Moments goes Beyond the Moment with programs such as their annual Family Camp and regional programs for their children and families throughout the year. Magic Moments works to create a caring support network for our families by not only connecting them to us, but to each other. For more information, visit www.magicmoments.org.
Avadian Credit Union is a full-service financial institution with branches located across the state of Alabama. With assets in excess of $600 million, Avadian serves more than 70,000 members with friendly and professional service. Avadian Credit Union has a "5 STAR" Superior Rating by BauerFinancial for Safety and Soundness.
Avadian Credit Union is a not-for-profit, financial cooperative that is solely owned by its members. For more information on Avadian Credit Union, visit www.avadiancu.com or call 1.888.AVADIAN (1.888.282.3426). Avadian Credit Union is also on Facebook, Twitter and LinkedIn.