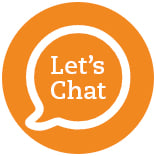 Sometimes you just don't want to have to get dressed and go to the branch to ask a question. And you may not want to pick up the phone to make a phone call either. But you still have questions about online banking or account offerings. So what do you do?
Now you can chat online with an Avadian representative.
We'll be able to help you with the following:
Opening accounts
Specials
Navigating online banking including how to…

Reset your password
Reset security questions
Change your address
Enroll in online banking
Register a device
Block/freeze a card
Transfer funds

Branch hours
And much more
Visit avadiancu.com or use our mobile app and click the orange chat icon in the bottom right-hand corner.
We look forward to serving you through online chat.