As part of our commitment to helping children learn financial responsibility at a young age, we've developed Edge Savings Account for Teens.
It's designed for kids ages 13-19.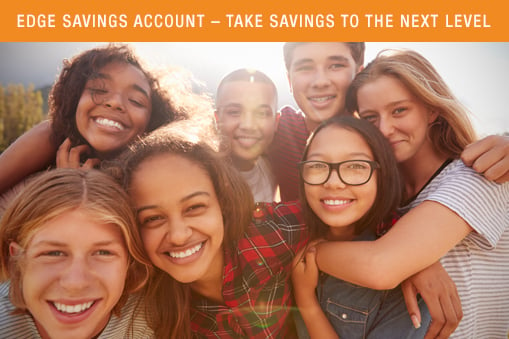 And if your child is a Kids Savings School member, their account will convert to an Edge Savings Account automatically. And the Edge Savings Account converts to a primary Savings Account when they turn 20.
The key benefits include…
Receiving $20 for every friend referred who opens an Edge account
The opportunity to apply for a Choice Checking account (with a legal guardian who is joint on the account, of course)
One-time "fee forgiveness" for members with a checking account
The availability of an ATM or debit card if requested by the legal guardian who is joint on the account
If your child is ready for the next step on their journey toward financial literacy, click here to apply today.
This credit union is federally insured by NCUA.
Additional insurance of up to $250,000 on your savings accounts is provided by Excess Share Insurance Corporation, a licensed insurance company.