Considering tapping into your equity but not sure if a Home Equity Line of Credit or a Home Equity Loan is better for you?
Whether you're considering a home renovation project or a dream trip long put off, we've got good news for you. Our brand-new HELOC Plus product gives you the flexibility of a Home Equity Line of Credit plus the "budgetability" of a fixed-rate Home Equity Loan (that's the "Plus" part).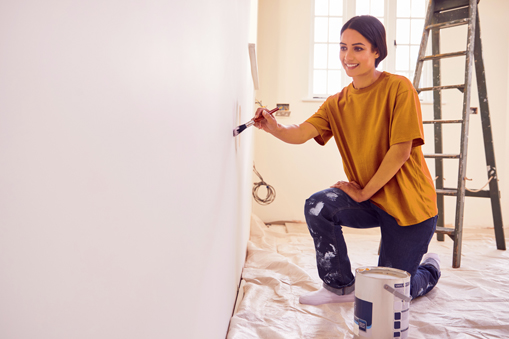 What's that mean, exactly? Good question.
First and foremost, the HELOC Plus acts as a Home Equity Line of Credit – a revolving line of credit secured by your home for use when and how you see fit. Using the HELOC part, you can access available funds as many times as you need during the first 10 years. During this period, you make interest-only payments on the amount you've drawn, not the entire approved line. The interest rate on a HELOC is a variable rate, meaning the rate can change over time.
With the "Plus" part, the HELOC Plus also features a "locking" function that gives you the option to utilize a portion as a fixed-rate loan, giving you a fixed payment that includes principal and interest.
If you lock in a portion utilizing the "Plus" part, you may continue to borrow against any available funds in your HELOC Plus. As you borrow, you may choose to utilize the HELOC part, making interest-only payments, or you may choose to utilize the "Plus" part as long as you have no more than three active "Pluses" at one time.
But that's not where the good news end. Right now, we're offering an introductory1 rate of 0.99% APR for six months on the Home Equity Line of Credit part.
After the introductory fixed-rate period, the APR will vary based on the prime rate plus a margin2 ranging from 0% to 2.50%. As of July 1, 2022, the prime rate was 4.75%. Current variable rates range from 4.75% APR to 7.25% APR.
Take a look at this chart for additional important information:
When using the HELOC part
of a HELOC Plus…

When using the "Plus" part of the HELOC Plus…

Interest Rate

Variable rate based on an index, plus margin

Fixed rate for the duration of the "lock" period

Receive Borrowed Money

At closing and as needed during the first 10 years (the "draw" period)

Entire amount you choose to "lock" when your lock agreement is finalized

Limitations on the Parts of a HELOC Plus

Unlimited advances/draws during the 10-year draw period

A maximum number of three "locks" are allowed at one time

Minimum Advance

$500

$5,000 per "lock"

Payments During Borrowing Period

Interest-only payments for 10 years only on the amount you've drawn

Fixed principal and interest payments on the amount you choose to lock

Payments During Repayment Period

Principal plus interest payments for 20 years

"Locks" are available for 36 months, 60 months, 84 months, 120 months, and 180 months
If this sounds like the loan option for you, apply now.
1Cannot be combined with other promotions. Property insurance is required. All rates and offers are subject to change without notice. The introductory fixed-rate offer is not available if the property has been used by the current owners to secure another Home Equity Line of Credit in the past two years at Avadian.
2The amount of the margin will vary based on several factors, including creditworthiness and loan to value ratio. Maximum lifetime rate on Home Equity Line of Credit is 15.00% APR. Closing costs will be waived with a minimum advance at closing of $10,000. (The $10,000 must be new money.) Closing costs and other fees are estimated to be between $300 and $700. If the Home Equity Line of Credit falls below $9,000 in the first six months, you will have to reimburse the closing costs waived by the credit union.
Equal Housing Opportunity Lender
NMLS #422274