We've said it before, and we'll say it again: Credit cards often get a bad rap, but the reality is that many of us need one. They help us build credit. They are helpful for practical reasons like booking a hotel room, paying for online services, or covering a large, unexpected expense. Many times, they also offer rewards benefits, cash back, and cardholder perks like fraud protection and even extended warranties.
And while we're on the topic of things we've said before, but we'll also include this one: it's best to pay your credit card bill off every month. But we know that sometimes life happens, and that isn't possible.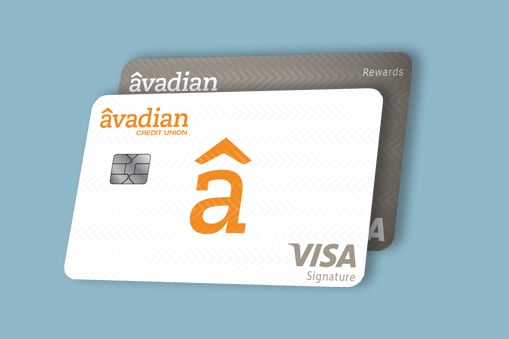 Credit cards sometimes feature introductory offers that make credit cards even more valuable. "Sometimes" happens to be right now for the new Avadian Visa Signature Card and the Avadian Visa Rewards Card.
The chart below compares some of the standard benefits of these two credit cards as well as introductory offers on bonus rewards points and balance transfers.
Take a look: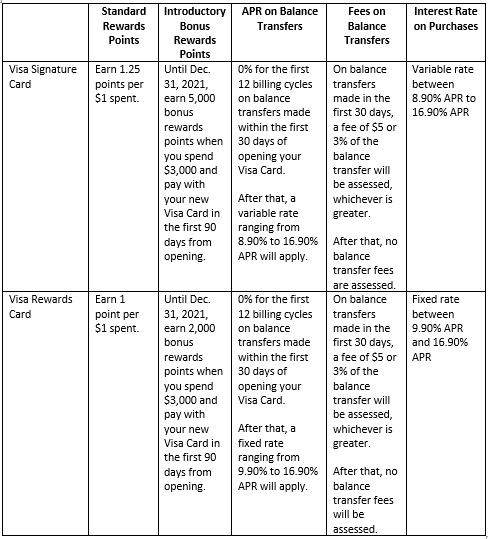 The rewards points you'll be racking up can be redeemed for:
Monetary rewards like cash back, gift cards, and even donations to charities

Gift card options include Target, Best Buy, Barnes & Noble, and more

Merchandise

Experiences like theme parks

Travel, including flights, cruises, rental cars, and hotels

Pay-at-the-pump fuel at participating merchant locations
Plus, you'll also enjoy special benefits like an extended warranty program on items purchased with your Avadian Visa card; a year-end detailed spending report to help with budgeting and financial planning; and travel and emergency assistance services.
If you think one of these credit card offers will be a valuable tool in consolidating high-interest debt, racking up rewards points, or simply by charging you a lower rate than your current credit card, click here to apply today.
Subject to membership, creditworthiness, and approval.
Balance transfers from existing Avadian credit cards are not eligible for the balance transfer offer.
To qualify and receive the bonus rewards points, you must charge the qualifying amount ($3,000) or more in purchases (minus returns, credits, and adjustments) within the first 90 days from account opening, using your Avadian Visa Signature Card or Avadian Visa Rewards Card. The bonus rewards points do not apply to balance transfers, credit card checks, overdrafts, or cash advances. Your Avadian Visa Signature Card or Avadian Visa Rewards Card must be open and in good standing at the time of the bonus points fulfillment. Allow 45 days after promotional period has ended for bonus rewards points to post to your account. Additional terms and conditions may apply.
Rates, terms, and conditions are subject to change without notice.