Has your honey-do list finally been completed now that you've been spending so much more time at home?
First off, kudos to you. Impressive. We didn't think those lists ever got done.
Second, can you come to our house? Just kidding. That would violate social distancing practices, and we want everyone to stay safe.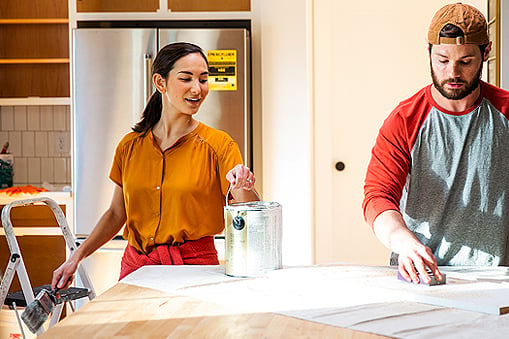 In all seriousness, you may be looking to tackle a project that's a little bit bigger while you're spending more time at home right now.
Is it time to tackle that kitchen remodel you've been talking about for so long? Maybe it's the master bathroom. Or creating that amazing outdoor space you've wanted to entertain (you will be able to entertain again sometime).
Or have you noticed something new that needs to be redone during all this time you've been at home?
Maybe the question right now is not what to do but how you're going to pay for it? Perhaps you're more worried about going to a branch to apply for a loan.
When you open a Home Equity Line of Credit from Avadian, you'll be able to tap into the equity in your home to cover it – and you can apply for one right from your home.
Right now, you can apply for a Home Equity Line of Credit and take advantage of these three great introductory offers1:
1.99% APR introductory fixed rate for 12 months
2.99% APR introductory fixed rate for 24 months
4.25% APR introductory fixed rate for 36 months
After the introductory fixed rate period, the APR will vary based on the prime rate plus a margin2 ranging from 0% to 2.50%. As of May 1, 2020, the prime rate was 3.25%. Current variable rates range from 3.25% APR to 5.75% APR.
And if you use the Home Equity Line of Credit for home improvements, you may be able to deduct the interest from your taxes. Consult a tax advisor regarding the deductibility of interest.
Ready to get started? Click here to apply now without even leaving home. (links to Meridian Link)
1The 12-month and 24-month introductory fixed rate offers are not available if the property has been used by the current owners to secure another Home Equity Line of Credit in the past three years at Avadian. All rates and offers are subject to change without notice and cannot be combined with other special promotions. Property insurance is required.
2The amount of the margin will vary based on several factors, including creditworthiness and loan to value ratio. Maximum lifetime rate on Home Equity Line of Credit is 15.00% APR. Closing costs will be waived with a minimum advance at closing of $10,000. (The $10,000 must be new money.) Closing costs and other fees are estimated to be between $300 and $700. If the Home Equity Line of Credit falls below $9,000 in the first six months, you will have to reimburse the closing costs waived by the credit union.
Equal Housing Opportunity Lender
NMLS #422274