Whether we're talking about paying for groceries, paying for new tires, or paying the power bill, nobody likes paying for stuff. Unfortunately, Avadian can't make everything free, but our online and mobile banking can make paying for it a bit easier – when you're out and about and when you're at home paying your "regular" bills.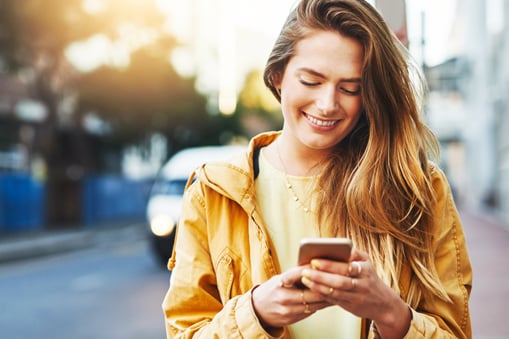 Paying When You're on the Go
Mobile Wallet and P2P (person-to-person) Payments help you pay for your groceries or gas and help you split the tab with a group at a restaurant.
Just add your Avadian card to your phone's mobile wallet ("Wallet" on Apple devices and "Google Pay" on Android devices) then open your wallet, select your Avadian card, and hold your phone near the card reader to pay quickly and easily.
P2P payments allow you to send money to anyone using just their phone number or email address with just a few taps on your Avadian app. Tap "Quick Actions" then "Send Money/P2P" and follow the directions. It's that easy.
Paying Those Boring Bills
With a range of features, Avadian's online and mobile banking helps you pay your "regular" bills quickly so you can get back to the more exciting parts of life.
Bill Pay allows you to, you guessed it, pay your bills online, securely, and for free. No more stamps. No more licking envelopes. No more urgent trips to the Post Office because you didn't get it in the mailbox on time. Set up payees to make one-time payments or even set up recurring payments.
Biller Direct brings all your bills into a single interface. No more going from site to site paying the water bill and the cable bill and the power bill and the phone bill … and the list goes on. Instead, Biller Direct brings the amount you owe and the due dates for all those bills and puts them inside online banking, allowing you to see and pay all your bills from a single website. Biller Direct is currently limited to larger companies. Click here to learn how to get started.
Updating your payment info with your streaming, food delivery, and subscription services when you get a new debit or credit card is a pain. CardSwap takes the pain away. How's that, you ask? CardSwap allows you to update your payment info for all those services at once. Find step-by-step instructions here.
While it doesn't have a fancy name, Loan & Visa Payments allows you to make payments on your Avadian loans or Avadian Visa cards easily. Just select "Payments and Transfers" then "Loan & Visa Payments" and follow the directions, and you're all set.
And finally, how about a way not to pay. Online Skip a Pay allows you to skip a payment on an eligible* loan. To see if your loan is eligible to be skipped, select "Payments and Transfers," then "Skip a Pay." Any eligible loans you have will be shown in the box. If you have an eligible loan, just select the loan you'd like to skip, then follow the directions and indicate how you'd like to pay the $40 processing fee.
Sign Up Online and Mobile Banking to Make Paying Your Bills Easier
Ready to make paying your bills easier? Sign up today.
Don't have an Avadian account? Open a checking account today.
This credit union is federally insured by the National Credit Union Administration.
Additional insurance of up to $250,000 on your savings accounts is provided by Excess Share Insurance Corporation, a licensed insurance company.*The ability to skip your loan payment via online banking is restricted to a specific set of criteria and not every member who is eligible to skip their loan payment will be eligible to skip through online banking.