Whether you're saving for your child's college tuition, you just graduated high school or you want to go back to school, getting a higher education is not cheap. In fact, studies show college costs increase at about twice the rate of inflation. Deciding on the best college savings plan depends on the age of the student and how long you have to save before enrollment. While we are by no means experts in this field, we have put together options and resources to help you better prepare.

Savings Strategies
In today's world, many view college as the must-have next step after high school and not just a choice. So it's not surprising for many new parents to begin a college savings fund even before their newborn comes home from the hospital. The sooner you can establish a college fund, the better it will be on your finances. And the longer you have to prepare, the more you have to put toward tuition.
One of the most popular strategies for young children is a Section 529 Plan. A 529 plan is generally sponsored by a state, and it allows you to make contributions on a regular, scheduled basis for a designated beneficiary. It does come with tax benefits. You can contribute to any state's savings plan. Most plans have no state residency requirements. Therefore, you don't have to contribute to the plan of the state in which you live or where your child may attend school.
Shameless Plug: Save money every time you shop with your Avadian debit card when you sign up for our Centsible Savings Program. We will also pay a 50% match on funds deposited in your Centsible Savings account for the first 30 days from the date of the first deposit and a 5% match on funds deposited after that.
Another savings strategy is a Coverdell Education Savings Account, formerly known as an Educational Individual Retirement Account (IRA). Like a 529 plan, Coverdell ESAs allow money to grow tax-deferred and proceeds to be withdrawn tax-free for qualified education expenses at a qualified institution. However the definition of qualified expenses in an ESA includes primary and secondary school, not just college and university. There are several differences between ESAs and 529s, including age requirements and contribution limitations.
You may also want to look into savings bonds as another resort. There are several different options available to accommodate you, and they usually come with tax advantages. As with most investments, the longer you hold onto your savings bonds, the better your return on investment.
Fun Tip: If your relatives or friends are looking for a gift idea for your child's next Christmas or birthday, you may want to suggest they buy a savings bond in your child's name. It's definitely a gift that keeps on giving!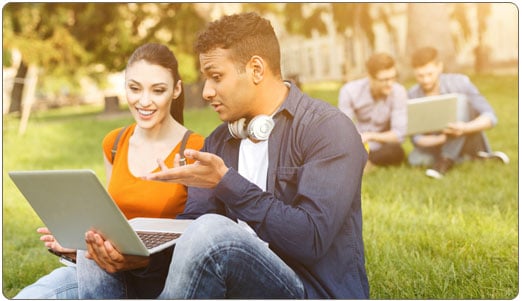 Financial Aid
Unfortunately many families struggle with saving money in general, so setting up a college fund may be out of the question. If that's the case or you're just now starting school and don't have time to establish a fund, there are other avenues to help pay for your education. There are basically two types of financial aid - merit-based or need-based.
Merit-based financial aid usually entails scholarships awarded for academic achievements, special talents, leadership potential or other personal characteristics. The scholarships usually come from a university or organization. Need-based financial aid is usually based on the financial circumstances of the student. To qualify for federal student aid, a student must file the Free Application for Federal Student Aid (FAFSA). The FAFSA uses a calculation taking into account income and assets to determine a student's Expected Family Contribution (EFC) toward his or her college education for that year. Colleges use the EFC to decide what types of financial aid a student is eligible to receive. Students must complete the FAFSA each year to be considered for financial aid.
Cool Hookup: Visit www.fafsa.ed.gov to start the process of filling out the FAFSA. This helpful site will walk you through all the necessary steps and even offers a Spanish translation.
Grants
Grants come from the government and a wide range of public and private foundations and trusts. There is a particular application process involved. With so many different types of grants available, your best bet is to contact your school's financial information center for details on grants associated with their school. You can also search government grants on www.grants.gov.
One of the most common grant programs available is the Federal Pell Grant Program. It provides need-based grants to low-income undergraduate and certain post baccalaureate students to promote access to postsecondary education. For more information on the Pell Grant Program, visit www.ed.gov.
Fun Tip: According to financial guru and author, Dave Ramsey, the best way to prepare for the expense of higher education is to pay off all debts and loans by the time your child is of college age. Then all you have to worry about is paying for their tuition.
Loan Options
Let's state the obvious: When all else fails, consider taking out a student loan. There are several different types of student loans; some geared toward parents paying tuition and some geared toward the student paying tuition.
If you're a homeowner - this probably speaks more to the parents - another possibility is taking out a Home Equity Line of Credit (HELOC). Use the equity in your home to help pay for college. You can establish a line of credit in advance and take out what you need as you need it each year. A HELOC can offer a better rate than a traditional loan and has its benefits come tax time.
Shameless Plug: We offer a Home Equity Line of Credit that is competitive and features a great rate.
Not-So-Smart College Move
Try to avoid at all costs borrowing against your retirement plan. Some employers allow you to borrow from your 401K, but be forewarned it will affect your retirement savings! Use this as an absolute last resort. Your retirement money should be for your golden years not your or your child's college years.
Cool Hookup: For a crash course on how to pay your child's mounting college bills, read Money Magazine's smart article aptly titled: "Your kid's in college! So...how will you pay?"
Out-of-State vs. In-State Tuition
Once you develop a method of paying for tuition, consider whether or not your student will want to attend an in-state college or one out of the state. Tuition tends to be more expensive, even double, when you go out of state. Reason being is that if you work in the state, your paycheck is helping fund in-state colleges through state taxes. If your student attends school outside the state, your family is not paying those state taxes, thus the higher tuition.
One way to help avoid extra costs is for you or your student to pick the college of choice and decide to move there 6-12 months prior to attending school. Once you're established as a resident through proof of bills, you may get the in-state tuition costs. Every college is different, so contact them first to discuss time periods and eligibility for in-state tuition.
Cool Hookup: A college education gets pricier every year. Go here for a list of the most expensive colleges and universities for 2016-2017.